Somewhere, out there on the internet, the discussion rages on about natural wines. To true believers, it's the one and only righteous path, to sceptics, nothing more than a farcical or even fraudulent movement. Regular readers of The Hosemaster have doubtless made the acquaintance of Frank Buck, natural wine hunter – a man with rifle and both feet planted in the latter camp, who pursues natural wines as a kind of sport.
But perhaps, Frank (or should I say, Ron), protests too much. I'm more allied with Fiona Beckett, who recently suggested that the wine trade is in danger of dismissing an emerging movement just as it gains momentum with consumers.
Step forward Eduard Tscheppe, a biodynamic winemaker who could challenge many of the unwelcome preconceptions that surround the cloudy haze of the natural "scene". For the wines he produces at Gut Oggau are not only fault-free, characterful and focused but also utterly moreish.
It's a snowy morning in Oggau, on the Western edge of Austria's Neusiedlersee, when I visit the Tscheppe HQ. At first I wonder whether I've stumbled on a trendy new media startup, for instead of being greeted by a bearded maniac with questionable hygiene and a faraway stare, I'm welcomed by a relaxed and really rather chic gentleman into a quirky but spotless winery.
Spirits (not the liquid kind) crop up a lot in our conversation: for the Tscheppes, the decision to buy this long abandoned estate, with its historically interesting but decrepid cellar was taken because they felt the place had "a good spirit". And the 14 hectares of old vines (up to 60 years) seemed to have a good feeling too. When they relocated here in 2007, the Tscheppes were determined to express the potential they could feel in the vineyard in the bottle.
Frank Buck is surely cocking his rifle – another naturalista who cares more about "good vibes" than making wine. But no, Eduard and his family arrived with plenty of experience making wine the "conventional" way, in more southerly Styria. But they felt that the standard approach couldn't be grafted onto Gut Oggau. A property so steeped in history seemed to demand a more radical approach.
As Eduard describes the winemaking process – significant time on the skins and lees for both red and white wines, wild yeasts, no filtration or fining – I wonder how user friendly these wines will be. Will Frank Buck be preparing his net, ready to salivate over another orange wine with insanely unapproachable tannins, a murky complexion and a stinky aroma that would frighten small children? Not at all, it turns out. The production methods may be unorthodox, but the results are elegant wines with breathtakingly lively and well-honed characters.
These are terroir wines, with field blends dominating the line up. However, that doesn't mean a loss of varietal character. Joshuari and Bertholdi are brilliant exponents of Bläufrankisch, with tight, mineral characteristics and sappy fruit. Grüner Veltliner, Welchriesling and Weissburgunder (AKA Pinot Blanc) all get highly original but still authentic treatments in the white blends Theodore and Timotheus.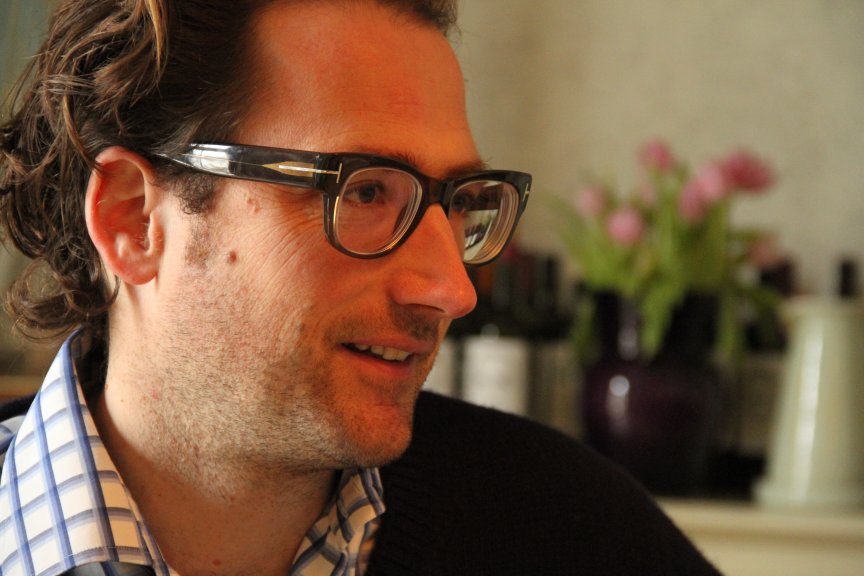 Eduard's philosophy about oxygen in winemaking is interesting. He prefers a semi-oxidative style of winemaking, where the wines "get used to dealing with oxygen" early on in their development. Some skin contact helps, giving the wines robust tannins to promote longevity and resistance to oxidation. This is in stark contrast to the modern "industrial" norm, which sees every stray bubble of CO2 as a maximum-security threat, to be eliminated at all costs. At least on this evidence, oxygen-free is not the only possible path.
As we discuss the light touch of concrete vats and old Austrian oak, Eduard draws a nice parallel with raising children: "we don't want to influence the wines too much, just to gently guide them so they can find their own way".
It's hard not to be drawn in by Gut Oggau's distinctive branding – Eduard explained the story behind the caricatured faces staring out from the labels: "When we tasted the first vintage maturing in the cellar, the wines felt so alive, with such strong personalities, that it was like having living persons in the cellar".
The design concept was developed to reflect that, with three generations of a fictitious family tree: young adults, already quite assured but perhaps simpler and more "upfront" than their parents (more developed and nuanced), and finally the grandparents – two precious single vineyard wines, made from grapes pressed in the 200 year old screw-press that is the crowning glory of the restored winery.
I ask Eduard whether he feels comfortable with the "natural" moniker, since this has become so polarising in the wine world. Like many supporters and detractors, Edward wishes there were firm guidelines. As far as he is concerned, Gut Oggau wines are as natural as wine can ever be. But there are many winemakers clinging to the same bandwagon, who exercise far less care. Gut Oggau is Demeter-certified, something which Eduard tells me is very important in terms of transparency and proof of intent.
Ultimately though, it's not the discreet back-label reference to their biodynamic credentials which defines these wines, It's their joie-de-vivre, self-confidence and uniqueness. In a wine-growing country that is more readily defined by quality than willingness to experiment, Gut Oggau dares to be different. Here at least, clothes pegs and hair shirts are not required.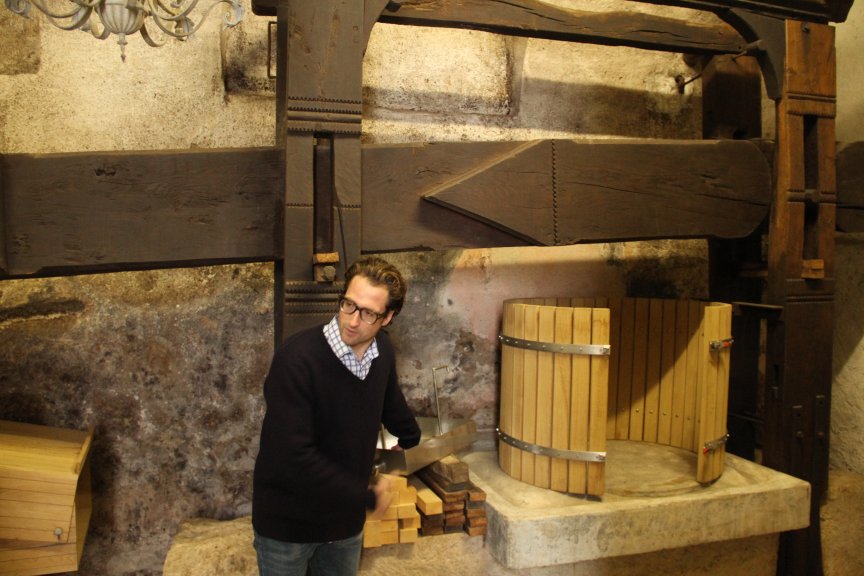 This article was originally published on Tim Atkin's site on 25th April 2013