Haywire produce some of Canada's very best orange wines, not bad for what started as a retirement project.
Every week, Simon selects an orange wine (a white wine made with extended skin contact) that grabbed his attention. View the whole series here.
When her husband Steve Lornie decided to build a winery in Okanagan, in 2011, Christine Coletta imagined a small retirement project for the couple to enjoy. Working 1,000 miles away at the time, she wasn't around to see the project take shape. Weeks later, she realised Lornie had rather grander ideas – instead of a modest cellar, a state of the art winery complex had sprung up.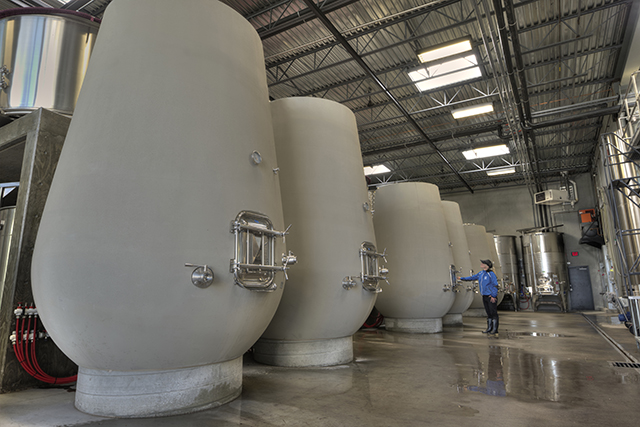 Okanagan Crush Pad is now well established as a major "custom crush" facility, making wine for clients who don't own wineries themselves. Additionally, Coletta and Lornie have launched two of their own labels – Narrative wines, which focuses on pure, cold climate varietal expression, and the more adventurous Haywire which focuses on natural wines. Both utilise fruit from their own organically farmed vineyards, some certified and some in conversion.
The Haywire whites are all made with extremely extended maceration My favourite of the current releases is Haywire Freeform 2016, a 100% Sauvignon Blanc, destemmed and then left with its skins for a full nine months (earlier vintages had less skin contact). It's exciting stuff, with ripe melon and citrus leaping out of the glass, quickly joined by nutty, savoury textures and the merest hint of chamomile. This is great use of skin contact, not obscuring the character of the grapes, but adding so much in terms of complexity and structure.
The wines are wild-fermented in huge concrete vats which seem more than a little inspired by the amphora form. Also worthy of note, although off-topic here, is the Haywire Gamay 2016 – a juicy, fresh-faced wonder.
Christine now travels the world on promotional duties (I caught up with her and assistant winemaker Jordan at Raw Fair London). She doesn't seem too miffed that she missed out on her retirement.
—-
Lots more background on Christine and her project can be found in this article from The Buyer.
Find Haywire Freeform on Wine-Searcher.
This producer is featured in Amber Revolution.